For those of you lucky enough to live in the Portland area,
this Saturday, August 29th is the annual HPSO & Garden Conservancy Open Gardens Tour.
This year the them is "Extending Your Garden Season" and features 5 varied gardens in the Beaverton area. This post was last weekend during a special "sneak peak" the HPSO hosted for several area bloggers and features 3 of the 5 gardens...enjoy!
The first garden we stopped at was the garden of Nancy & Gordon Prewitt...and at close to 1/3 of an acre, I was instantly jealous of all their space...one thing I'll say about all of these gardens, they have room to stretch out!
As I entered the backyard, I heard an audible gasp from fellow blogger,
Heather Tucker
, she had just stumbled upon what may be the largest Salvia 'Amistad' I've EVER seen in Portland...it was enormous and beautiful (at least 6' tall)!
This garden was full of charming details, like this birdhouse. I believe the owner said they'd been in this location for 35 years...can you imagine!
There was a small corner packed with different sedums...loved these little spreading guys...
...and this mix of two different, taller, varieties.
Exuberant use of annuals was to become a theme for the day, and this garden was no exception, with it's abundance of colorful Zinnias.
Above all, the Prewitt garden, in my mind at least, was about food. It was one of the most beautiful edible gardens I've ever visited.
In quite a few spots, I wondered if all the flowering annuals were a way of enticing pollinators to visit the surrounding veggies.
Not that there needs to be a reason beyond beauty to plant them ;-)
Sigh...I need to plant Cosmos again...oh, to have the room!
Our next stop was the lovely garden of Chris & James Mitchell. Again, I was insanely jealous of all their space...and their graciously-sized corner lot...oh the things I could do with so much space!
These two gardeners have a knack for foliage combinations and this garden felt very "PNW" to me, with it's eclectic mix of foliage types/colors.
Continuing the theme of annual flowers, their front garden is dominated by scads of gorgeous, self-seeded Cleomes...they were amazing...so luminescent!
I loved this pairing of Oakleaf Hydrangea and Rudbeckia.
My favorite plant, however, was this gone-to-seed Lunaria (Money Plant). I just loved those translucent seed pods.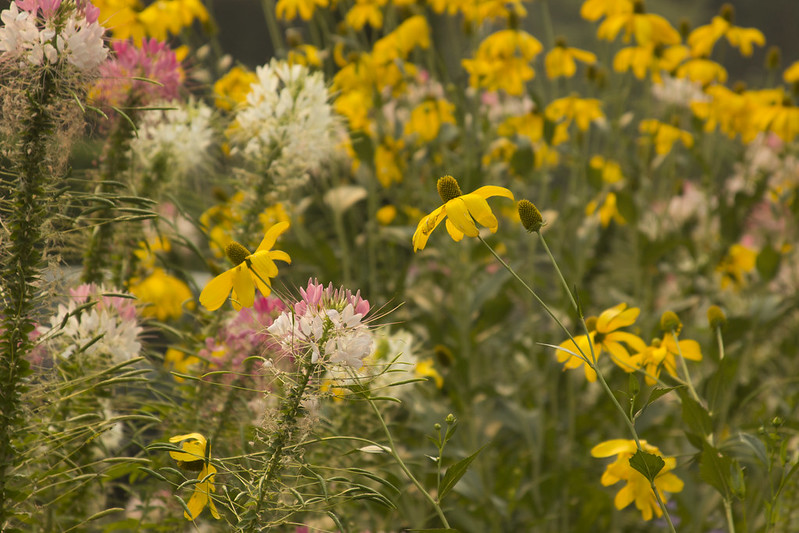 I'd never think to pair pink and yellow together, but here it works.
I love these richly-color, old-fashioned Hydrangeas.
More foliage goodness.
And here is probably my favorite spot of the tour...this shaded, calming spot sited underneath towering fir trees in their backyard...you just can't beat such trees for a sense of scale...it's hard to believe we're in the middle of suburban Portland right here!
Who doesn't love the smoldering foliage of Cotinus?
I was really impressed by this pairing of Rudbeckia and Inula...just slightly different textures and shades of yellow.
Quite nice, right!
It wouldn't be a garden tour in Portland without hops ;-)
Here we have a few bloggers
Jane
and
Amy
admiring the garden.
And more of our group, gathering around the gardeners to catch more details about the history of the garden and it's design.
I don't know why, but Fuschias are one of those plants that are just totally off my radar...they are lovely though, don't you think?
As we turn to leave this garden, let's say 'Hi' to this impressive Gunnera.
The final garden we toured was that of Zachary Baker and Leon Livengood...and it was no shrinking violet...wearing its heart on its big, colorful sleeve!
The garden is a mix of formal reserve and unabashed exuberance. Obviously, this vignette is on the reserved list...what a great view!
A few steps over and you're greeted by a veritable bouquet of bedding annuals.
And now we're calm again...with these serene, slightly blushed Hydrangeas.
I really liked the stone walls and containers throughout this garden...they divided the space up nicely.
This is such a great combo...Rudbeckia and Hydrangea.
I wonder where they got this copper finial...loved it!
And how nice is this vignette!
Japanese Anemones are a nice complement to the hanging paper lanterns, don't you think?
Another nice combo of annual red Pennisetum and Coleus. Why is it that when I see Coleus in other gardens, I like it...but when I go plant shopping, they all look so awful?
If you are interested in going, visit
THIS LINK
for more information. Pre-sales of tickets are over, but you can purchase tickets at each garden at a cost of $7/garden. I hope you can go...there are some great gardens to see!